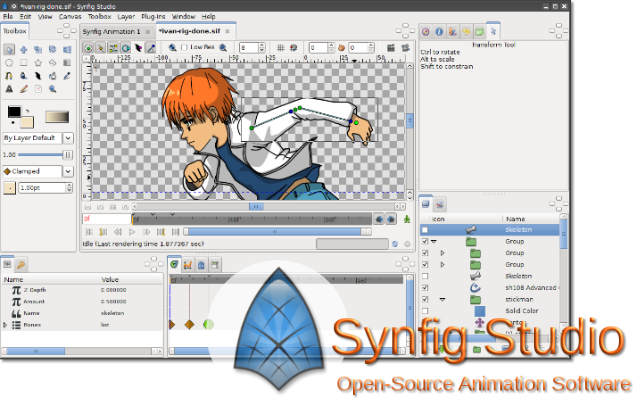 Synfig Studio is open source 2D animation software, designed as a powerful industrial-strength solution for creating film-quality animation using vector and bitmap artwork. It speeds up the animation process by using sprites and digital tweening rather than adding to the illustration workload. This makes it ideal for a freelance animation artist or a small animation team.
Synfig Studio eliminates the need to create animation frame-by frame. Instead, it uses timeline-based animation which allows for the creation of high-quality 2D animation with fewer people and less resources. You can use this application to create feature film-quality animation, web animations, advertisements etc. It supports multi-layers, filters and other very rich features such as spatial resolution independence, temporal resolution independence, High Dynamic-Range Imaging (HDRI), pen-tablet friendly tools, artist-oriented design, path-based gradients, etc.
Synfig Studio is available for Windows, Linux and MacOS X.
Proprietary applications it could replace:
Adobe Animate CC
Toon Boom Harmony
Anime Studio

 Learn more and download Synfig Studio here