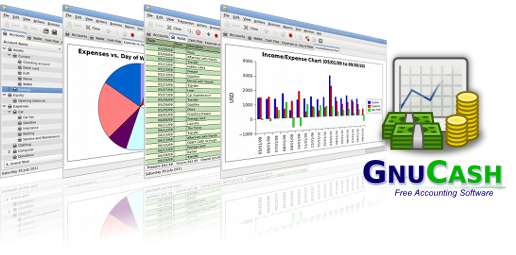 GnuCash is an Open Source personal and small business financial-accounting software. GnuCash is both powerful and flexible, designed to be easy to use. It allows you to track a variety of account types, bank accounts, stocks, income sources, and expenses. Its design is based on professional accounting principles to ensure balanced books and accurate reports.
Among GnuCash's key features are double-entry accounting, small-business accounting, invoicing, bill payment, payroll, and more. It can import data from banks as well as other software packages using QIF (Quicken), OFX (Microsoft Money), and HBCI files. You can view what changes will be made to accounts before completing a data import. It can be exported to spreadsheets such as Microsoft Excel and CSV.
GnuCash is available for Windows, Linux and MacOS X, BSD, and Android.
Supported databases: SQLite3, MySQL, PostgreSQL
Proprietary applications it could replace:
Quicken
Microsoft Money
Peachtree

 Learn more and download GnuCash here!